(happy dance...)
It is hard to believe.
I want to pinch myself.
Is this for real?
It is!
(yay, I can do my happy dance again)
Long story short, It doesn't take long to build up debt. Paying it off is a different story. I debated on whether I should even blog about this. I mean, it is sort of personal. The Mexican es muy privado. Hard to believe I know... with a blogging wife who uses his picture all the time. I decided to go ahead in the hopes that if anyone out there in blogger land is feeling the stress of debt, they will read this and know it is possible.
I knew it was time to do something when every single cent we made was going towards bills and living expenses. Since I was the one who did our bills (my hubby basically handed me his paycheck) I was more intune as to how bad our situation was. I felt like we were suffocating. We were always playing catch up. Always on payment plans. Using change for gas. Started receiving calls from bill collectors. I could go into more detail, but just know... it was bad!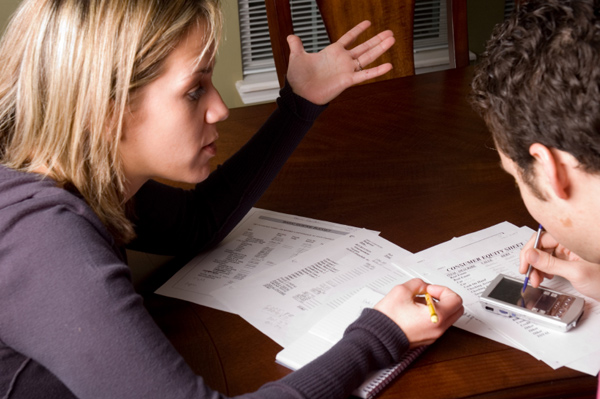 Once my husbandand and I discussed things, we were in agreement something had to be done now! Now! that our son was young. We didn't want things to continue to spiral out of control and end up in a worse situation years from now. We didn't want our son to experience any hardships due to our bad financial decisions.
We were living paycheck to paycheck and it was hard to come up with any extra money to even make a dent in what we owed. So where did we start?
First, we cut out anything that was not a necessity.
We got rid of cable t.v.- Actually, this was easier than anticipated. This freed up a good bit of $$$. Its ridiculous how much we paid for satellite/cable t.v.. We bought a digital t.v. antenna from Wal-mart, mi mexicano mounted it on the side of the house, and ta-da! Digital t.v.. We receive a good amount of stations. Really, I can't believe what a rip off cable/satellite is. We have not been deprived at all. We are at work daily anyways. We have a limited amount of time to watch t.v.. We get all the normal local channels plus 3 channels en espanol, 3 different PBS channels, even MTV tres, music channels, and more. My son didn't suffer at all. He has 3 channels that are geared towards children available 24/7. (and best of all, the shows are educational...not mind numbing like "Spongebob," not that anything is wrong with Spongebob, because I LOVE Spongebob...just making a point) and all FOR FREE!!!
We did away with our home phone service. We use cellphones. Why do we need a home phone?
Second, we searched out the best deals for services we did need.
We switched to a different trash service. It was cheaper, plus when signing up you got your 1st three months free!
We even did away with grocery shopping! For the 1st six months we bought our food through Angel Food Ministries . We bought a $35 box of food which suprisingly would last us 2 weeks. We live in the city where Angel Food Ministries was founded. We would go to the distribution center to pick up our food. I'm not sure if this is something they did for everyone or just the people who went to the distrubution center....but, sometimes we would receive 2 or 3 boxes of food when we had only paid for 1. They would always say, "Please take it, it is something we are doing today. God bless!" It really was a blessing! If you or someone you know is in need of food, not eating healthy due to the cost of food, having a hard time, trying to get their financial situation under control etc.... I highly suggest visiting www.angelfoodministries.com
I contacted our insurance agent and made sure they were giving us the best rates on car and home insurance. Guess what! We got it lowered!
Third we came up with a budget and other plans....
We got on a Debt Management Plan. Yes, I know we probably could have filed for bankruptcy but The Mexican was totally against it. The debt management plan was great though. They were able to get the collection calls stopped, and interest rates lowered. We paid one monthly fee and they distributed the amounts to the credit card companies. I think they charged $3 a month for this service.
We did away with our checks and paid everything in cash! We paid daycare, electric, gas and water all with cash. We had no false sense of having money. We could see it with our own eyes! No money, meant there is really no money! No using our ATM/Debit/Credit cards for anything!
No eating out. We made breakfast at home. No stopping for coffee or a cappuccino on our way to work. We brought our lunch to work. We prepared and ate dinner at home.
The Mexican and I did not buy any clothes. My work provided me with uniforms. When it was getting close to Christmas, my mom always ask for a list of possible gifts. I'd always tell her shoes for me, work shirts, shoes, jeans for The Mexican. Whatever we needed most. Luckily, I have some awesome friends who have kids older than my son. I was always receiving hand me downs. With a growing child this was a big blessing.
Very limited entertainment. No movies, bowling, fairs, zoo, NADA. Lot's of trips to the park and we did make an occasional trip to the dollar theatre. Birthday parties always provided fun entertainment for my son. Luckily my nephews live next door and that is unlimited entertainment!
During the four years it has taken us,
my husband had a job change and was laid off. That did not stop us. We remained determined and we ended up paying off the one car we still had a loan on. We ended up buying a junker (well, it looks like a junker, but runs spectacular!) for my husband to drive due to the work van using so much in gas. We actually have money in savings and it will continue to grow from here.
We can now,
buy clothes, get my hair done! get manis and pedis..... not trying to go overboard. The clothes are a must! My hair is a must! The mani and pedi is a treat to myself occasionally.
I do not think we will get cable/satellite back. There is so much available online. It's almost like flushing good money down the toilet now. We will continue what we have been doing. Its like a routine. We may occasionally splurge on going out to eat or something, but our main goal now is to save.
The Mexican was very supportive and there was no way we could have done it without being on the same page. It took us a while to get on the same page, but once there..... there was no turning back! He would always tell me, "This is a piece of cake! We can do this! When I lived in Mexico.........." (then he'd tell me about stories of growing up in poverty and although it seemed bad at the moment, it could be a lot worse)
He was right and I'm glad I had him to fall back on.
I can not begin to describe the feeling of knowing besides our home, we are completely debt free!
This was a hard lesson to learn. I know that after all the hard work we have put into getting out of debt, we will never make the same choices again when it comes to money.
I prefer to have this feeling over holding a designer bag ANYDAY!
Yay! we did it baby!